NOTE:

Our Human Writers write unique versions of your sentences for pennies!
"The Fastest Way to Rewrite and Spin articles Guaranteed!"
Put your seed article creation on autopilot! Unique Article versions within hours!
Turn your articles into seed articles automatically by harnessing the power of micro-outsourcing
Use seed articles to generate hundreds of unique, interesting, and grammatically correct article versions automatically.
Turn PLR (or original) articles into hundreds of unique articles
Increase article submission effectiveness with unique article versions
Avoid Article Submission duplicate content penalties
Free Article Spinning from your Article Rewrites
Import Your Seed Articles directly into Jetspinner for automatic spinning
Import into Jetsubmitter for automatic submission of unique versions
For a limited time HumanSpinner monthly membership is being waived completely. Pay only $0.12 per sentence rewrite.
Free Human Article Spinner Signup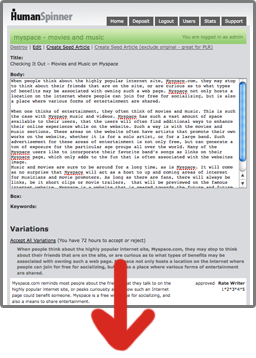 Enter your email below for instant access to hundreds of writers waiting to spin your articles
**Please double-check that your email address is correct or you wont receive your username and password. I take your privacy very seriously - your information is NEVER shared.
Unsolicited Testimonial
Ok, I'm in love with your service now. The person who did my work today did SUCH a good job.

Kudos man, I wish I could give that person a tip...

cheers,
Luke